Harry: Pompey close to UEFA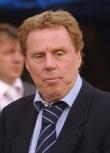 Harry Redknapp

has set his sights on the 56 point total that helped Bolton secure UEFA Cup football last season. Portsmouth have 44 points with 11 games remaining.
Redknapp told The News: "We've got enough points to keep us in the division. Now we want enough points to get us into Europe.

"We have seven home games and if we can get on a run who knows where it could take us?

"We have to start thinking positive now and start thinking about trying to get into Europe.

"It's going to be very close but we have decent games.

"It's up to us to try to get on a run and try to get in there.

"If 56 did it last season we'd need 12 points. You'd hope we would get more than 12 points over the remainder of the season.

"I'd like to think we were able to do that. Our away form is terrific, too, so we have to be looking for a decent total."