Moyes: Everton can come 4th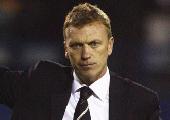 Everton boss

David Moyes

believes that the Toffees have enough bottle and character to come fourth and qualify for the Champions League this season. They are currently three points ahead of rivals Liverpool who lie in fifth with 47 points.
"We are chasing with a lot of teams and we are having a lot of games on Sundays because of the European campaign," he said in the Daily Express.

"It means a lot of teams are having the chance to get their points on the board before we play.

"We were the team under pressure on Monday to get a result, but the players certainly handled it and came up with the goods.

"It is better for us to be playing more games but I hope it doesn't catch up with us towards the end of the season.

"But the way the squad is, we're having to change one or two players in each game anyway because of injuries or tactical decisions."