Wilfried Zaha drops transfer update ahead of the summer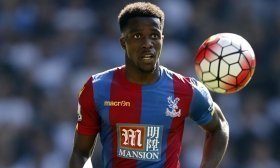 Crystal Palace winger

Wilfried Zaha

has provided a transfer boost to the likes of Manchester United and Tottenham Hotspur after indicating that he could leave the Eagles for a second time.
The Ivory Coast international has been garnering plenty of attention from elite Premier League sides in the past couple of seasons and it appears that he could be on the move when the current campaign concludes.

In an interview with The Mail, Zaha stressed that he is too ambitious to stay put with the Eagles and has the ambition of securing silverware at a top outfit.

"I'm too ambitious. And not ambitious just to play for a top club, but to win things at club level and with the Ivory Coast," he was quoted as saying by the publication.

He added that he wants to ply his trade in the Champions League and would jump at the first opportunity of doing so to prove his worth, he added: "I have to experience the Champions League. I just need the opportunity, that's it. And I'll do the rest."

At the moment, Spurs and United have been linked with the attacker, but neither have cemented their top-four spots, which would assure a return to next season's Champions League.

Should both sides qualify for the competition, Spurs could still hold the advantage over United, considering the forward may have reservations over returning to Old Trafford after an unfruitful spell earlier in his career.