Paris St Germain ready to sell Neymar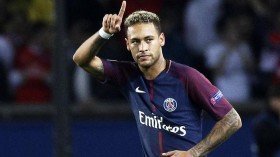 Paris St Germain have announced that the club are ready to sell Brazilian international forward Neymar this summer. PSG sporting director Leonardo confirmed that Neymar was absent from training and that the player will be allowed to leave, with Barcelona his likely destination.


Neymar was expected back at the club for pre-season training on Monday but amidst talk of a transfer back to his former club Barcelona, the PSG man did not appear at the club's training ground.

Leonardo told club reporters on Monday evening: "PSG affirms that the player Neymar Jr was not present at the time and place required, without prior authorisation from the club.

"PSG regrets this situation and will take appropriate action. It's clear to everyone. But in football, you say one thing one day and another the next.

"I spoke to him and his entourage. The position is clear for everyone.

"Only one thing is certain today: he is under contract with us for three years. And since we have not received an offer, there is nothing to discuss.

"We have not received any offers. But we have had, it is true, superficial contact (with Barcelona)."