Neymar open to Manchester United transfer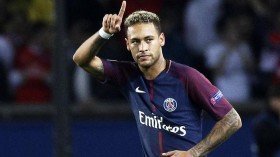 Paris Saint-Germain forward Neymar is reportedly open to the prospect of joining Manchester United during this summer's transfer window.
The Brazilian has been fancied to make the comeback with Barcelona this summer but so far, that has not happened with the Blaugrana struggling to put up an offer for his services.

Amidst this, it appears that Neymar is prepared to consider alternatives to the Spanish champions and AS reports that Manchester United, Real Madrid and Juventus could emerge as probable options.

Paris Saint-Germain have been reluctant to accept anything other than a full-cash deal for the attacker and they are looking for the £200m fee paid to pursue him from Barcelona 24 months ago.

At present, United and Juventus seem unlikely to afford the package with their restricted budgets for the summer and Real Madrid may go in the same route, given the attacker had previously rejected their advances to join arch-rivals Barcelona six years ago.