Spanish striker rejects Tottenham Hotspur offer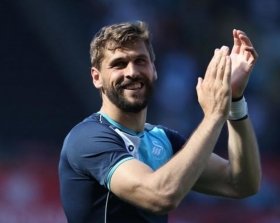 Spanish striker

Fernando Llorente

has turned down the opportunity to rejoin Tottenham Hotspur after he was urged to take a paycut on his previous salary at the club.


Llorente spent the past two seasons with the north London giants where he contributed 13 goals and six assists, but he was released last month after his contract concluded.

Since then, the former Swansea City man has been linked with a return to the Serie A with the likes of Lazio and Napoli but it appears that Spurs have failed to re-acquire his signature.

According to Football Insider, Llorente was offered the chance to re-sign for last season's Champions League finalists, but he was not willing to take a paycut on his previous £90,000-a-week salary at the club.

Llorente, who has spent the past three seasons in the Premier League, is currently hopeful of an approach from Manchester United, who may want another marksman to cover up the anticipated departure of Alexis Sanchez.