Mandzukic's the man for Man Utd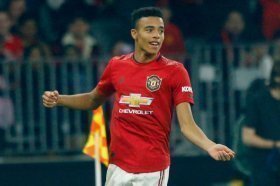 With strong rumours flying over Italy about Juventus' #9 , 33 year old

Mario Mandzukic

is almost certain to leave Old Lady with Manchester United as likely destination.
What can Mario bring to Manchester ????

United have been crying out for depth in their squad since the league started with the likes of Lukaku and Sanchez leaving and have to rely on 18 year old Mason Greenwood as a backup.

Mario Mandzukic coming to United is a no brainer. Being a 33 year old and left out of Juve's UCL squad by Maurizio Sarri , he would welcome a new challenge with open hands. Also, Ole Gunnar Solksjaer will be happy to have him for an year or so without harming Greenwood's development.

At 6'3″ Mario should be a perfect backup for Martial and co . Besides being a prolific striker , his defensive contributions are also note worthy. He will be a perfect plan B for Ole's side when they lack dynamism in breaking deadlocks against teams that like to defend deep.He can get the wingers and the midfielders into the game by dropping deep using his physical presence to shield the ball, which can be very useful for counters.So basically Mario can be a two way weapon.

Will Ole buy him ????

This is altogether a different scenario considering the recruitment policy United follow. But at €5-10 m , it is a gamble worth taking. It will be interesting to see if Ed Woodward approves along with his management team.