Frank Lampard speaks on Chelsea's top four prospects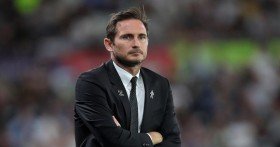 Chelsea manager

Frank Lampard

has said that the Blues are possible underdogs in the push for the top four after making no signings during the winter transfer window.
The Blues were touted to go on a £150m spending spree last month after failing to sign any players over the summer due to a FIFA-imposed transfer ban.

However, that was clearly not the case and the Blues ended the recent transfer window without making a single signing to boost their bid to make the top four of the Premier League.

Speaking prior to the weekend's game at Leicester City, Lampard said that his side have become underdogs in the pursuit of Champions League football despite holding onto the fourth spot for most of the season.

"From my view - and this is not to talk ourselves down, because we're six points clear in fourth - now we become probably the underdogs and the outsiders to some point, because teams have strengthened around us. It's a fact," he told.

Chelsea's lead over the fifth-placed side has been reduced to four after their 2-2 draw at Leicester City combined with Tottenham Hotspur's 2-0 win over Manchester City. Spurs are scheduled to face Chelsea at Stamford Bridge before the end of the month.