Who are Tottenham's top eight highest scorers of all time?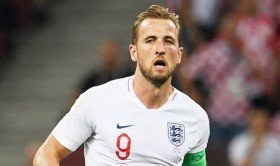 Although this season may not be exactly be a vintage one for the Lilywhites, at least they can boast an incredible array of talented centre-forwards who have donned the famous white shirts. 
But who are the top eight scorers of all time for Spurs and more importantly, how many did they score?

1st Jimmy Greaves – 266 goals

Englishman Jimmy Greaves played a majority of his football in London, firstly for Chelsea, before moving to Tottenham in 1961 (via AC Milan). The move proved to be a revelation and for nine years, Greaves dominated English football with his goals. 

His tally of 266 strikes in all competitions for the Lilywhites came in just 379 appearances.

2nd Bobby Smith – 208 goals

Another player who switched from Chelsea to Tottenham was Bobby Smith who played for the Lilywhites between 1955 – 1964. Despite scoring an incredible 208 goals from just 317 games, Smith only played fifteen times for England, although he did score 13 times for the three lions. 

3rd Harry Kane – 181 goals

Still only 26, there is every reason to believe Kane will top this list one day of he decides to stay with the Lilywhites of course. He could already have been up to second but for a number of injuries which have restricted his playing time recently but whenever he does pull on the white shirt, goals are never far away. 

4th Martin Chivers – 174

Jimmy Greaves was still present at Tottenham when Martin Chivers arrived from Southampton in 1968, but when Greaves left for West Ham in 1970, Chivers would quickly establish himself as one of Tottenham's greatest players and goal scorers of all time. 

In eight seasons he netted 174 times in 269 appearances and thirteen times for England in 24 matches. 

5th Cliff Jones – 159 goals

Another player to have graced White Hart Lane in late fifties and sixties, Welshman Jones joined Tottenham from Swansea in 1958 and spent ten years at the club firing in 159 goals in just 378 games for the Lilywhites.

6th Jermaine Defoe – 143 goals

Still playing the game today at Rangers, Defoe was in the Kane mould that whereever he went goals were assured. The Englishman had two stints at the club and both proved fruitful before eventually ending up at Rangers where he had netted 21 goals in 36 league games. 

7th George Hunt – 138 goals

George Hunt may be seventh in the all-time list but his strike rate is actually one of the best. Having played for the Lilywhites from 1930 to 1937 after signing from Chesterfield, Hunt would go on to net 125 league goals in just 185 league appearances. He finally left the club to move to Arsenal (ouch) to secure a total of 138 goals in 198 games for Spurs in all competitions.

8th Len Duquemin – 134 goals

The final man on our list played for the Lilywhites for eleven years from 1946 to 1957. During that time, the Guernsey born striker netted 114 league goals and helped Tottenham win the first division title in 1951. He left the club in 1958 for Bedford Town totalling 134 goals from 307 games.