Romanov: SPL is fixed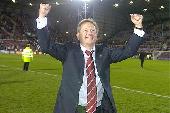 Hearts' outspoken chairman

Roman Romanov

has come under fire after claiming that the Scottish Premier League is fixed in favour of the Old Firm pair Celtic and Rangers. The Lithuanian made the comments during Hearts' AGM this week.
The outspoken Romanov said: "For a very long time in this country it is a fixed league where Rangers and Celtic win by 30 points.

"Ask yourself how many games this year have been screwed by referees, five games is 15 points.

"He was very vague when answering questions and then went back to the old hobby-horse of referees and the Old Firm," said Alex Gowans, the chairman of Hearts' shareholders board.

"Nobody believes that. I don't know why he's coming out with things like that.

"The reason Rangers and Celtic are at the top of the league is because they are the strongest teams."