Euro 2020: No room for complacency as England take on Ukraine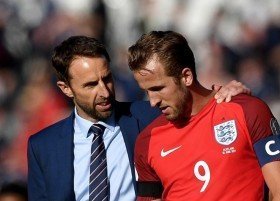 Beating the Germans at Wembley Stadium was just what English fans needed. If the level of expectation surrounding their national team wasn't high enough already, there is now genuine belief that Euro 2020 can actually be won. Up next for England is a potentially tricky encounter with Ukraine in Rome.
England raised their game in the second half and thoroughly deserved the 2-0 final outcome against Germany, after what had been a notably cagey first half between these two classic European rivals. Interestingly, the side managed by Gareth Southgate still don't appear to have peaked, despite the confidence shown while eventually putting Germany to the sword.

This inevitably bodes well ahead of their next challenge in the quarter-finals. The latest betting on Ukraine v England is strongly in favour of the Three Lions, who are firmly backed at 2/5 odds to win the game within 90 minutes. However, there is absolutely no room for any complacency against Ukraine, as this will be a stiff test of England's credentials as the new tournament favourites.


June 29, 2021


Despite being rated as 17/2 underdogs going into the quarter-final clash on Saturday, this Ukraine squad led by

Andriy Shevchenko

should never be underestimated. Although they only just made it through the opening phase of the tournament, after finishing third behind the Netherlands and Austria in Group C, they are a team gaining momentum and self-belief.

Ukraine lost their opening Group C game 3-2 against the Netherlands, yet never looked overwhelmed. After beating North Macedonia 2-1, they lost 1-0 against Austria in a tightly contested encounter. That said, even in defeat, Ukraine always looked capable of turning things around.

In the Round of 16 match against Sweden at Hampden Park, the Ukrainians rode their luck at times, but they were compact and efficient throughout the game. Tied at 1-1 after 90 minutes, the match went to extra time where Marcus Danielson was red-carded for Sweden after a dangerous lunge, which left Besedin injured and out of the tournament. In the end, Artem Dovbyk made it 2-1 and earned Ukraine a deserved spot in the quarter-finals.



For their part, England made a somewhat low-key start at Euro 2020. Although there was glowing praise by the media after the 1-0 win against Croatia, in truth, the game was much tighter than many reports appeared to suggest. In what had been billed as a classic 'Battle of Britain' clash between home nations, England were then held to a frustrating 0-0 draw against Scotland.

The final Group D encounter with the Czech Republic was also a tense affair, even though

Raheem Sterling

scored after just 12 minutes of the game. In the end, the 1-0 victory was enough to send England through to the knockout phase as group leaders. Then came the memorable victory against Germany in the Round of 16, which undoubtedly lifted spirits.

Arguably, it appears England are in the easier side of the draw for reaching the Euro 2020 final, providing they remain fully focused and without allowing any complacency. If they can triumph in Rome against Ukraine and reach the semi-finals, England would face either the Czech Republic or Denmark. For this reason, it's no surprise to find English fans in confident mood, full of belief their team can win the tournament.