Cristiano Ronaldo responds to scrutiny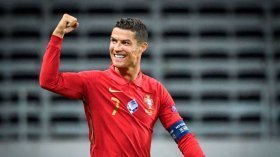 Manchester United forward

Cristiano Ronaldo

has responded to scrutiny after a number of indifferent performances since his return to Old Trafford. The Portuguese has scored 6 goals in 9 games since moving back to Man Utd from Juventus.


Ronaldo has come under fire for his perceived lack of defensive output, but the striker has moved swiftly to respond to journalists and pundits.

"I know when the team needs my help defensively," Ronaldo told Sky Sports. "But my role in the club is to win, help the team to win and to score goals — [the defensive side] is part of my job.

"The people who don't want to see that is because they don't like me but to be honest I'm 36, I win everything so am I going to be worried about the people who say bad things about me? I sleep good at night. I go to my bed with my conscience very good.

"If they worry about me or they speak about me, it's because they know my potential and value in football still. I think the main word is that I'm still happy and enjoying football. It doesn't matter how many things I won in my career — I'm still motivated."