Inter Milan win Serie A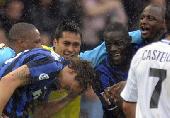 A late

Zlatan Ibrahimovic

brace gave Inter Milan their third successive Serie A title as they earned a 2-0 victory over Parma at the Enrico Tardini. The result confiremd Parma's relegation to Serie B, and Roma were unable to reach Inter at the top of Serie A.
The first half was certainly tough for Inter, as Parma battled away in search of a goal - and a win - that would've given them a chance of Serie A survival.

Inter threw everything at Parma, who defended resolutely, but it was Parma who wasted the perfect opportunity to take the lead as Gasbarroni crossed for Cigarini who blew a golden opportunity.

Elsewhere, Roma took a very early lead in the ninth minute against Catania, as a brilliant Mirko Vucinic run through two defenders gave him some space, and he fired from a tough angle past the goalkeeper and in off the post - a brilliant goal - to give Roma the lead.

Inter were certainly worrying at this point.

Only five minutes into thse second half and Inter decided to bring on Swedish striker Zlatan Ibrahimovic. What a masterstroke it would prove for Inter boss Roberto Mancini.

Everything was resting on these two games for all four clubs, Catania knew they only needed a point to jump above Empoli, whilst Inter took on Parma - who had an outside chance of survival.

Nevertheless, on came Zlatan Ibrahimovic and the game was opening up. On 62 minutes, the Swedish striker grabbed a great goal to send the Inter supporters into a frenzy.

The game and the title was secured when Ibrahimovic again scored in the 79th minute with a great volley after good work on the flank from Maicon.

Elsewhere, Roma knew their chances were over, and somehow Catania rescued a goal as Jorge Andres Martinez scored to level and secure their safety in Serie A. Parma were relgated with Empoli at their expense.

So, Massimo Moratti and Roberto Mancini have masterminded a third title and it seems that Mancini's future as Inter Milan boss is surely secure.