Lehmann unsure of future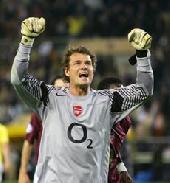 Former Arsenal goalkeeper

Jens Lehmann

has admitted that he is still unsure whether he will continue playing next year, and if he does; where he will be playing at. VfB Stuttgart are interested in signing Lehmann.
"The situation is that I have no club from July 1," Lehmann said.

"At the moment, that would mean I am retiring because I have no other club. VfB (Stuttgart) are led seriously, have a good team which plays attractive football and, thus, a good coach.

"Either I find a new club before we play (against Serbia) in Gelsenkirchen on May 31, or I decide after the tournament. It could also be that a decision is taken after my holidays on July 25, but I am under no pressure."