Cannavaro ruled out of Euro 2008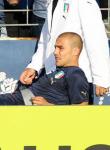 Fabio Cannavaro

had injured his left ankle in their first training session at Modling, Austria on Monday. He was taken to the hospital and after lengthy tests, the Italian doctor said that he had ligament damages.
Cannavaro's injury has caused concern for Italy's hopes of winning the EURO. The medical staff were hopeful that he might be able to recover soon, but the latest reports suggest that he is ruled out of the Cup.

He sustained a knock in the training session following a tackle by fellow defender Chiellini. He was carried off the filed on a stretcher and the ankle injury required immediate attention in hospital.

The Italian doctor said that it will require at least 12 hours to understand the full extent of the injury suffered.

"We have to do tests but it does not look like a minor injury. It takes at least 12 hours to understand the full extent of an injury like this. The first thing we need to assess is if there is any damage to the bones."

The latest reports suggest that he has seriously injured the ankle ligaments and will miss the Euro 2008. The length of his absence is yet to be determined.

The 34-year old center back has been capped 116 times and had been the World Player of the Year when they won the World Cup two years ago. He had been in great form for Real Madrid, helping them to win the La Liga comfortably.

His absence will be a blow for Italy's hopes in the Euro 2008.

The Italian coach Roberto Donadoni will have to call for replacement.

Daniele Bonera and Alessandro Gamberini are the likely candidates to take Fabio's place in the squad.