Barca set to sign Hleb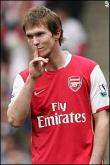 Barcelona are hoping to land Arsenal attacking midfielder Hleb and a deal could be expected this week, according to Spanish press.
Alexander Hleb had earlier stated that he wants out from Arsenal and he will be moving out of England. Inter Milan, Barcelona and Real Madrid were frontrunners to sign him. A Spanish newspaper has reported that the Belarusian is highly rated in Barcelona and they are keen to sign him in the next few days.

El Mundo Deportivo suggests that a deal between the club and the player has been agreed and it is just a matter of confirming the details with Arsenal.

The move will cost Barcelona no less than £10M. The 27-year old joined Arsenal from Stuttgart for £12 M in 2005.

He has been a good investment for the Gunners and they had been reluctant to let him go. The players inability to adjust to the English weather is reportedly the major reason why he wants out of England.

Arsenal are set to sign Samir Nasri, highly rated youngster from Marseilles,as a long term replacement for Hleb.