Bolton 0-1 Everton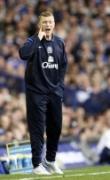 Everton sank Bolton at the Reebok Stadium, as the 1-0 result left

Gary Megson

musing over just how bleak the future could be,

Marouane Fellaini

grabbed the goal that saw off the Trotters.
Megson concerned

Megson admitted: 'We're obviously in trouble. That's the sixth game we haven't managed to score, and we've got to start winning games. The stats show that we were as good as the opposition but the only stat that matters is goals scored.

'If we'd drawn I'd have been disappointed, but a winning goal like that is a bitter disappointment for everybody. I've told them all we've got to stay together regardless of what they hear and read, but I'm preaching to the converted.'

Moyes it was 'scrappy'

"We're really pleased, because we didn't think it was going to arrive," he told Sky Sports.

"It was a scrappy game, I don't think the conditions helped.

"The pitch was very slick and we didn't use it to our advantage. We didn't pass the ball well, but there were a lot of positives - a clean sheet for the first time this season."