Monaco chasing El Zhar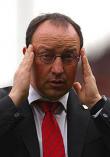 Monaco are reportedly interested in securing the services of Liverpool winger Nabir El Zhar. It is understood that the Reds are keen to hang on to the player, but may allow him to leave on loan.
El Zhar is valued by Liverpool in the region of 5 million GBP, but Rafa Benitez has previously hinted he is firmly in his first-team plans for the forseeable future.

A move to Monaco would offer El Zhar first-team football and an opportunity to improve his own chances of making the Liverpool first team.