Redknapp not victimising Bent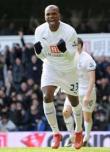 Harry Redknapp

has rubbished suggestions that he is victimising

Darren Bent

, after the forward's glaring miss against Portsmouth. Bent missed the simplest of chances, and Redknapp joked that 'even my wife could've scored that'.
Redknapp said: "If I had the hump every time someone said something about me, I wouldn't get out of the house in the morning. It wasn't like it was Darren Bent I was trying to knock, I swear. If it had been Jermain Defoe I'd have said the same thing. It was my reaction to the miss.

"It could have been anybody. Someone said: 'Do you think you should have won the game?' and I replied: 'Yes, I think my missus would have scored it.'.

"You can't keep pussy-footing around. What am I supposed to say? 'It was a really good try' or 'he was unlucky' or 'he's done his best'?

"He should make sure that next time he gets a chance, he scores. Go out and practise. He spent a bit of time this morning heading balls into the goal."