AC Milan want Beckham stay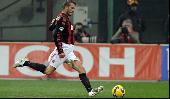 The former England captain continues to impress the Milan management with his performances on the pitch and latest reports suggest that AC Milan are keen on signing the ace midfielder on a permanent deal.
David Beckham is enjoying a great run of form and he scored a 'screamer' free kick in Milan's 1-1 draw against Genoa last night. The England super star is on a loan deal at the Italian club until the end of season. Milan boss Carlo Ancelotti hinted that they would want Becks to play for them on a permanent deal.

The aging midfielder has to return to his club LA Galaxy on March 9 when the new season starts, but, leaving a club like AC Milan would not be a great decision. The latest reports from Italy suggests that Beckham would love to end his career in Italy.

The Milan boss said : "We want him to stay, but, it's difficult to talk about his future now. We all appreciate him being here, it's up to him to decide if he wants to stay."

If he plays in the current form, it won't be long enough for him to be back on the international side. AC Milan is currently placed third in Serie A, eight points behind city rivals Inter Milan and two points from a second placed Juventus.