Spurs are on talks with Keane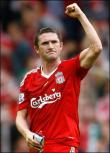 Liverpool has allowed

Robbie Keane

to talk to Tottenham Spurs on his potential move back to the London club.
Liverpool is keen to sell striker Robbie Keane back to Tottenham Hotspurs. Rafa Benitez do not favour the experienced striker even after he showed sparks of his great form.

Liverpool has confirmed that Spurs are been allowed to talk to Keane. Inside reports suggest that Rafa Benitez want the deal to happen before the transfer window closes today.

A spokesman from Liverpool said that a final deal has not agreed, but, Spurs are on talks with the player.

"We've allowed Robbie to talk to Spurs but we've not yet finalised a deal with them for the player."

Tottenham are also on talks with Inter Milan on a possible exchange of Jermaine Jenas for Ricardo Quaresma.