Hiddink takes charge at Chelsea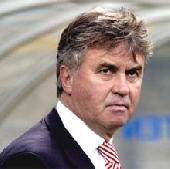 Chelsea appointed

Guus Hiddink

as the caretaker manager for four months. The latest reports suggest that he will take charge at Chelsea by tomorrow.
The Russian boss, Guus Hiddink, has agreed to "help" Roman Abramovich by taking care of the manager seat at Chelsea. The Dutchman would be paid a humunguous sum of £2.5m for four months!

The 62 year old told that he will return to Russia to manage the national team once the Chelsea job was over. Hiddink is not interested in a long term contract and so, has agreed only until the season ends.

AC Milan boss, Carlo Ancelotti, might be the man to replace him as the long term manager. Ancelotti is expected to leave Milan in summer to be at Stamford Bridge.

Ancelotti has won two champions league titles for AC Milan.