Man City target Lucas Barrios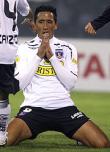 Manchester City are looking to bring in Argentina striker

Lucas Barrios

from Borussia Dortmund, according to reports this morning.

Roberto Mancini

is weighing up a 6 million GBP offer for the player.
Although no offer has been confirmed for the player, he is interested in making a move elsewhere.

"I have a contract until 2014. But I know that a time will come in which Borussia will want to cash in on the money they invested in me," he told the German daily Bild.

"I am very happy in Dortmund, love the people and fans. But interest from bigger clubs makes me very proud."