Abdallah Sima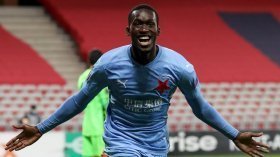 News from around the web

Dan Ashworth lifts lid on why Abdallah Sima joined Stoke City right after signing for Brighton
side last term, had reportedly previously been on the radar of Arsenal, Manchester United, and West Ham. Mooted fees of £20-25m from a few
17/10 09:00




News from Eyefootball

Arsenal could lose Eddie Nketiah for free after failing to offload him during the summer transfer window, The Sun reports.

Arsenal are likely to keep Eddie Nketiah after Crystal Palace failed to negotiate a suitable fee for his services.

Slavia Prague forward Abdallah Sima is reportedly attracting interest from Arsenal and Manchester United ahead of the summer transfer window.