Profile: Patrice Evra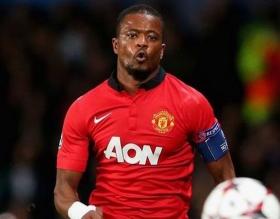 Current club: Manchester United

Date of Birth: 15 May 1981

Birthplace: Dakar, Dakar, Senegal

Position: Defender, Full back, Left back




'I love you FOREVRA': Patrice Evra wishes ex-Manchester United team-mate Park Ji-Sung happy birthday as he makes funny Rush Hour reference
Patrice Evra took to Instagram to wish Park Ji-Sung a happy 36th birthday In his social media message, the French defender wrote: 'I love you FOREVRA' Evra super-imposed their heads onto Chris Tucker and Jackie Chan as he posted a photo of the Rush Hour 3 cover The pair spent six years together at M
25/02 14:23




Former Manchester United full-back Patrice Evra has admitted that he was close to a winter return to Old Trafford. The France international eventually opted to join Marseille on a free after he was denied from making his comeback.

Former Manchester United full-back Patrice Evra has reportedly joined Marseille on a free transfer from Juventus.

Juventus full-back Patrice Evra is expected to make a decision in the next 24 hours amid interest from the likes of Marseille, Crystal Palace, Lyon and Valencia.

Crystal Palace manager Sam Allardyce has confirmed that his side have finalized a transfer fee to sign Arsenal's Carl Jenkinson this month.

Juventus manager Massimiliano Allegri has revealed that experienced full-back Patrice Evra has yet to decide on his next move. The former Manchester United ace has been linked with a potential switch to Crystal Palace this month.

Manchester United boss Jose Mourinho has for now stalled over a move for Benfica defender Victor Lindelof, BBC Sport claims.

La Liga strugglers Valencia are apparently in the running to sign Juventus full-back Patrice Evra this month.

France international Patrice Evra has made contact with both Manchester United and West Ham United as he bids to return to the Premier League this month.

West Ham United boss Slaven Bilic has insisted that his side are not in the running to sign former Manchester United full-back Patrice Evra.

French right back Bacary Sagna wants to make a move away from the Premier League and has indicated that Italy would be his preferred next destination. Sagna joined Man City from Arsenal two years ago.

With Chelsea reportedly interested in signing Gonzalo Higuain, it's interesting to see where he would rank among the best Argentines to play in the Premier League.  There are a lot of talented players not to have made the list such as Angel Di Maria who didn't live up to his world class standard he previously set at Real Madrid. The same rule applies to Juan Sebastian Veron who was a great player before he arrived in England but sadly it just didn't work out for him at Manchester United or Chelsea. Maxi Rodriguez also had some brilliant performances at Liverpool.

Former Manchester United defender Patric Evra could seek a move back to the Premier League in January.

Manchester United striker Robin van Persie has hinted that he could be tempted into a summer move to Juventus.

Patrice Evra has been linked with a switch back to Old Trafford, according to a report.

Manchester United coach Louis van Gaal is readying a 23 million euro bid for Monaco full back Layvin Kurzawa. The 22-year-old is seen as a ready made replacement for former captain Patrice Evra.

Juventus defender Patrice Evra has slammed Man Utd's players for a lack of commitment. Man Utd have struggled since Sir Alex Ferguson's retirement and former defender Evra has hit out at the club's squad.

Juventus are understood to be closing in on a deal to sign Manchester United's out-of-favour striker this summer.

Queens Park Rangers are to sign defender Mauricio Isla next week after the club agreed a loan deal with Isla's club Juventus for the 2014-15 campaign.

Manchester United left back Patrice Evra will undergo a medical at Juventus today. The French defender has already agreed a two year contract at the Serie A side, who will pay a reported 3.65 million euros for his services.

Manchester United are reportedly closing in on the Juventus midfielder Arturo Vidal.