Sami Hyppia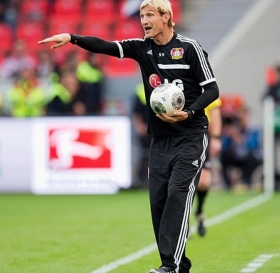 News from around the web

Sami Hyppia has said something very surprising about Liverpool's defence

09/12 14:53




News from Eyefootball

Brighton and Hove Albion are a welcome new addition to the Premier League. Chris Hughton, who could be one of the country's most underrated managers, will be looking forward to another chance to shine.

Sami Hyppia has taken charge of Championship side Brighton and has penned a three year contract with the club. Hyppia was fired by Bundesliga giants Bayer Lervkusen in April.

What a difference a couple of weeks makes. Three weeks ago many predicted that Wayne Rooney's Manchester United career would soon be over. Tonight, Wayne Rooney returned to the spotlight for the right reasons as he put in a stunning performance against Bayer Leverkusen; grabbing two goals.

Arsenal scouts have been monitoring Bayer Leverkusen's defender Omer Toprak in action and could make a surprise transfer move for the Turkish international defender. Toprak, who was born in Germany and has played in the country for his entire career, has attracted the interest of Gunners scouts after a series of impressive performances in the Bundesliga.

Former Liverpool defender and current Bayer Leverkusen manager Sami Hyppia has admitted that the club would be find themselves in a difficult position if Stefan Kieesling picks up an injury.

Steven Gerrard has admitted he was gutted to find out the Finnish international defender Sami Hyppia would be leaving the club for Bayer Leverkusen in the summer.

Liverpool have an interest in Newcastle's defender Steven Taylor. Rafa Benitez is a known admirer of the player and is looking for a long-term replacement for Sami Hyppia.

Liverpool centre back Jamie Carragher has broken his rib after being taken off 15 minutes before the end in Liverpool's match with Sunderland. The collision with Jose Reina has meant he could miss a few weeks of football.