Podolski admits future unclear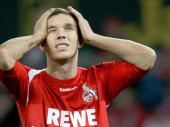 Recent rumours in the media have stated that Arsenal are reportedly interested in bringing

Lukas Podolski

to the Emirates. The player himself made no effort to calm these rumours, instead suggesting that his future is far from certain.
Cologne are currently 11th in the Bundesliga and will find it difficult to provide Podolski Champions League football, something that he will surely get at Arsenal.

He said to Express: "I can jump to no conclusions about my future."

"I have always stressed that my future is open and said that I will have to wait and see about the state of the club's sporting situation.

"I am pleased that things are going so well for me, but I also know that football is a daily business."

Cologne will look to tie him down to a new contract, with his current one expiring in 18 months.