Stalemate at the Emirates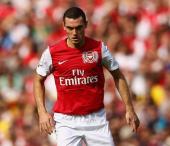 Arsenal's bid to achieve qualification to the next round of the Champions League failed after they were held to a goalless draw by Olympique Marseille.
Both teams produced an inconsistent display, possibly because of fatigue that was carried forward from their weekend matches.

Robin van Persie was given a rest and Arsene Wenger started the game with Park Chu Young. Thomas Vermaelen made his much waited return to the first team, starting alongside Per Mertesacker in defence.

Marseille started the game brightly, with Andre and Jordan Ayew involved in some neat interplay that fooled the Arsenal defence twice in the opening minutes.

Arsenal's first chance came in the 10th minute, when Walcott shot across the face of the goal, only for Mandanda to put it wide.

Arsenal had a golden chance to take the lead in the 20th minute, when Aaron Ramsey out a Santos cross over the bar.

A few minutes later, Ramsey should have done better when Gervinho found him unmarked in the middle of the box. However, he took too long to pull the trigger and saw his final shot blocked by the defender.

The second half Arsenal on the attack, but their efforts were coming to nothing. Park Chu Young was anonymous for large parts of the game and was replaced by van Persie on the hour mark.

Persie got his chance to score in the 77th minute, when Tomas Rosicky played an excellent through ball that split the Marseille central defence. However, van Persie tried a fancy chip over the keeper which only landed straigh in Mandanda's arms.

Arsenal's last attack of note came in injury time, when van Persie delivered an excellent cross into the box, but this was headed away by Marseille left-back Morel.

The draw sees Arsenal still lead the table with 8 points, and Marseille just one point behind them. Arsenal's next match is at home to Borussia Dortmund, where they will try to achieve the three points that will guarantee them a spot in the knockout stage of the Champions League.