Beckham wants English manager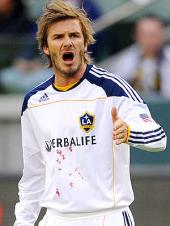 England legend

David Beckham

hopes that the FA turn to an English manager once

Fabio Capello

steps down after the Euro 2012 tournament next year. England have not had an English coach since the reign of

Steve McClaren

.
Beckham said: "We haven't had those options in the last few years so, you know, we've had a manager that's been successful all over the world in Fabio Capello.


"But going forward, every Englishman would want an English manager."


Seemingly, that leaves the FA with very few options should they agree with Becks, but many expect Harry Redknapp or Neil Warnock to be at the top of their short list.