Blackburn boss issues Samba warning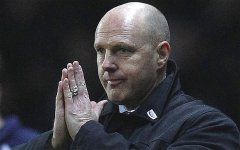 Blackburn manager

Steve Kean

revealed

Christopher Samba

had been left out of the squad for the 3-1 over Fulham with stomach illness, and not because of an imminent transfer departure.
Christopher Samba reportedly said in midweek that he would like to move back to France with Paris St. Germain, and in recent weeks Tottenham have also been interested in the burly centre back.


"Chris will be at the hospital either tonight or tomorrow morning," said Kean. "Just for tests, because he has complained of severe stomach cramps.


"He texted the doctor to say he was feeling unwell. He is not for sale. 


"We had a bid for Chris Samba from one club, we refused the bid and our statement is there for everyone to see. He is not for sale."


Kean hopes that Samba will be back in time to face Everton in Rovers' next critical Premier League game.


"We'll make sure the virus he has is not too serious, that it clears up and he can be available for Everton."