Arbeloa praises Finnan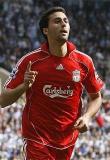 Alvaro Arbeloa

has praised his Liverpool teammate

Steve Finnan

for his recent consistent performances. The Spaniard has labelled Finnan 'fantastic' and hopes to be able to learn from the fellow Liverpool full back.
"Finnan is unbelievable," the 24-year-old Arbeloa told LFC Magazine. "He never plays badly. He is a good player who always plays really well. He is a great example for someone like me. I am learning a lot about the game from him.

"Not only is he a fantastic player but I also count him as a good mate," Arbeloa continued. "It is a challenge for me to play on the right side of the defence because Finn is such a good player. Just watching and working with him in training every day can only improve my game in the long run.

"Finn still has some good years left in him," added the Spaniard. "At 24-years-old it is a good opportunity for me to be able to learn from someone like him and who knows what will happen in the future? It would be great if I can stay here for another eight years or so, though.

"It would be nice to have my own position one day," commented Arbeloa when asked if he could make the right-back spot his own. "But if you can play in three or four positions it is better for the team, the boss and for me. Sometimes players get injured or the boss has another idea for a certain game. I can play on the right or the left, but the most important thing is that I play well when or whenever I am in the team."