Hail Hail, Brendan's here.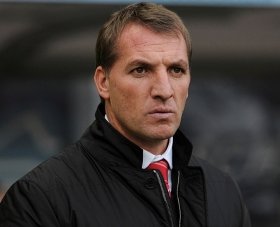 "He is the right appointment for this size of club and what we face in terms of not only the Scottish league but Europe and the Champions League."  These are the words of Ian Bankier, Celtic chairman, following the appointment of

Brendan Rodgers

to the Parkhead hotseat yesterday afternoon. 
What initially appeared an unrealistic appointment, as evidenced by the 25-1 odds offered by the bookmakers at the outset, has now become a reality and the appointment of the lifelong Hoops fan has been heralded as a major coup for the club and Scottish football more widely.  With a resurgent Rangers back in the top-flight next season, it was vital that Celtic attracted a stellar name to guide the club towards a sixth successive title and Rodgers certainly fits the bill.  His career trajectory has been one of steady progress, from youth coach at Chelsea, to first team level with Watford, Reading and Swansea, before landing an elite level job at Liverpool in the summer of 2012.  Despite some harsh commentary around his three-year stint at Anfield, it should be remembered that he came agonisingly close to ending Liverpool's league title drought in 2013/14, with his team playing an exciting brand of football which saw them score 101 league goals, the club's most since 1895/96.  Tactically astute and with a flexibility in team shape, Rodger's teams are synonymous with possession based football which is attractive on the eye and will surely appease a support who demand football be played "the Celtic way."  So what will Brendan Rodgers be faced with when he settles into his office at Celtic's Lennoxtown training base?

The first task facing him is to streamline a playing squad that has become bloated in recent years.  Quantity as opposed to quality has been the flaw in Celtic's recruitment programme under Ronny Deila and Rodger's will need to address this issue swiftly.  There is undoubted quality within the squad, but reducing the existing playing group into a stronger core from which to build, will be imperative to enable him to manoeuvre in the transfer market in order to bring in his own players.  Having enjoyed vast sums to re-mould Liverpool, the Northern Irishman will have to adjust to the more meagre resources available when operating in Scotland and it will be intriguing to see how he approaches working in a different level of the transfer market.  One suspects the loan market in England will prove fruitful territory, as has already been the case with Patrick Roberts who is currently borrowed from Manchester City.

Celtic's new man is highly regarded for his man-management and coaching prowess and with limited time before Celtic begin their Champions League qualification campaign on July 12th/13th, these skills will be put to the test immediately.  Improving the performance levels of the existing squad is imperative and Rodgers need look no further than his successor at Anfield, Jurgen Klopp, as an example of how good coaching can generate an uplift in results, without a squad overhaul.  His philosophy of "educating" rather than "training" players will need to bear fruit as the Celtic support will view anything other than a return to the group stages of the Champions League as failure. 

Beyond the quick fix of restoring Celtic to Europe's top table, domestic success is also a pre-requisite for a demanding Celtic support.  Their rivals in the blue half of the city are undoubtedly on an upward curve under another progressive manager in Mark Warburton, and ensuring that Celtic exert dominance in the domestic league is vital.

The 12 month rolling contract suggests that Rodger's views this role as part of his road to redemption and a mere stop-gap to facilitate his return to the Premier League in England.  Football's most cherished currency is trophies and given the resources at his disposal compared to their league rivals, he is well placed to hoover up some domestic medals, a missing element on his managerial CV to date. Should he accomplish this and bring back Champions League action to the East End of Glasgow, Rodgers reputation will be restored and he will once again become a prime contender for the big jobs in the big league.  Nonetheless, Celtic should be applauded for landing a manager of this calibre and for demonstrating genuine ambition, and should enjoy his reign while it lasts.