Zlatan Hits Three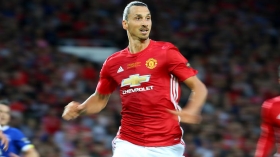 Zlatan Ibrahimovic

scored a hat-trick last night, as Manchester United put themselves in a strong position ahead of next week's Europa League round of 32 second leg.


The tie at Old Trafford saw The Red Devils take on Saint Etienne, a fixture which produced a meeting of two Pogba brothers. United were strongly expected to win the match, however, after a bad couple of days for English sides in European competitions, it was essential that Mourinho's men put in a professional performance.

Ibrahimovic gave United the lead on 15 minutes, when his free kick took a deflection and trickled past Saint Etienne goalkeeper Stephane Ruffier. It remained that way until the 77th minute, when some good play from Marcus Rashford was finished off with a close range finish from Ibrahimovic. The Swedish striker then completed his hat-trick from the penalty spot after a questionable penalty was awarded for a tackle of Ibrahimovic himself.

This doesn't come as a surprise as Zlatan has scored more goals against Saint Etienne in his career than any other team, and he has been in good form in his debut season at Manchester United too, with the penalty being his 23rd goal of the season. He also has plenty of experience scoring hat-tricks too, with last night's being the 17th of his illustrious career, which has seen him scoring for some of the biggest clubs in the world.