Clattenburg Here For The Season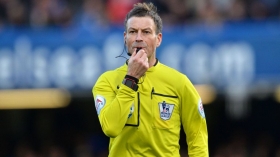 Despite announcing that he would be leaving the Premier League to take up a position as Head of Refereeing in Saudi Arabia a few days ago,

Mark Clattenburg

has been appointed as referee for this Saturday's game between West Bromwich Albion and Bournemouth. 
41 year old Clattenburg was expected to leave the Premier League with immediate effect, after announcing his decision to leave, however, with the role not beginning in Saudi Arabia until next season, he looks set to see out the season in England.

Clattenburg will be in charge of the game at the Hawthorns on Saturday, but with the long term Premier League referee having expressed his desires to work elsewhere, it is thought that he may only be given a limited number of matches to officiate. 

Upon arrival in Saudi Arabia, the Englishman is rumoured to be earning a salary in the region of £500,000  a year, which is a considerable step up from his current Premier League wage. It is not the first time that an English referee will have held the position of Head of Refereeing in Saudi Arabia, with former Premier League and World Cup referee Howard Webb resigning from the role a short time ago.