"Yesterday My Dream Died" Ranieri Releases Statement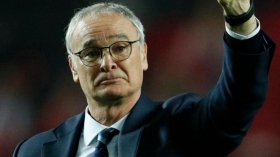 Following the dismissal of

Claudio Ranieri

as Leicester City manager yesterday, everybody in the world of football seems to have had their say on the situation, apart from the man himself. This afternoon, the Italian manager released a statement for the first time since his departure.


Ranieri opens the statement with a hard hitting first sentence; "Yesterday my dream died," He is known for the passion he has for the game, and during Leicester's triumph last season, you got the impression that he was enjoying every second as much as the fans. The statement follows with "After the euphoria of last season and being crowned Premier League Champions all I dreamt of was staying with Leicester City, the club I love, for always. Sadly, this was not meant to be." Despite what some voices in the game are calling disgusting treatment of Ranieri by Leicester, the title winning manager has maintained his dignity and respectability by speaking of the club in such high regards, as he thanks the club, staff, players and mainly the fans for the support that they offered him over his two seasons in charge. Ranieri signs off his statement with "It was a time of wonderfulness and happiness that I will never forget. It has been a pleasure and an honour to be a Champion with all of you."

Roberto Mancini was many people's favourite to take over from Ranieri, but he has since ruled himself out of the running for the job. The odds with bookmakers suggest that Alan Pardew, Nigel Pearson and Gary Rowett are also in contention.