Torres back Benitez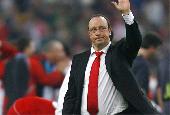 Fernando Torres

has urged Liverpool's American owners to give

Rafa Benitez

their full backing and the Spaniard will help turn the club into serious Premiership contenders.
"It's impossible for me to imagine this club without Rafa Benitez in charge," Torres told The Sun.

"It's just unthinkable what would happen if he should decide to leave. They have to let the boss just get on with it.

"It has been a difficult season for the club because, frankly, people expected us to win the title.

"It takes time for a squad to gel. Winning the Premier League is not easy. it's a process of growing into it.

"I've been surprised by just how good a coach Rafa is. What he manages to do in every training session is draw the very best out of each player.

"He's right on top of every single detail and picks up on little things even you had no idea you might benefit from paying attention to.

"Then, suddenly, he's shown you three or four things which you had no idea needed work.

"Rafa massively improves every player he works with."