One English giant will fall on Sunday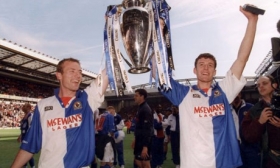 Sunday sees the final day of the 2016/17 English Championship, which will see a big name in English football drop into the third tier. Rotherham United and Wigan Athletic have already been relegated, and either Blackburn Rovers, Nottingham Forest or Birmingham City will be joining them.


As it stands, Blackburn Rovers are the team occupying the final spot in the relegation zone, but the way that it stands, any of the three teams, who have achieved so much success in the past between them, could be relegated.

If Blackburn are relegated, they would be the first team that has won the top English division to be relegated to the third tier, since the introduction of the Premier League. Their fate looked sealed not too long ago, but manager Tony Mowbray has made his team battle for their survival since his appointment, and he may just pull off a great escape.

Nottingham Forest won back to back European Cups in 1979 and 1980. In the time since they have also appeared several times in the Premier League, finishing as high up as third place. It would not be the first time that they are relegated to League One, and they know from previous experience that an instant return is not guaranteed.

Manager Mark Warburton has got his Forest team playing much better football since he took over at the City Ground, but good football is not what keeps you in a division like the Championship. The Forest fans will be desperate to see their team secure victory on Sunday, regardless of how they play.

Birmingham City were pushing for a play off position in the first half of the season, but since the controversial dismissal of Gary Rowett, the team from St Andrews have taken a nosedive down the league. Gianfranco Zola has since had an unsuccessful spell in charge, but now Harry Redknapp is at the helm.

A victory over Huddersfield gave the Blues hope, but they are in for a nervous day on Sunday, particularly if Blackburn and Nottingham Forest manage to get themselves in front.