Torino president on Joe Hart: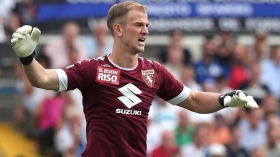 Joe Hart

has not had the best of seasons in the Seria A, and the president of the club had some harsh words for the England international
Joe Hart was loaned out by Manchester City in the summer after Pep Guardiola deemed that he was not good enough to be in the squad. 

The former Manchester City goalkeeper has endured a sub-par season at Torino, garnering only five clean sheets in 34 games for the club, most recently letting in five goals against Napoli in the league. In total, Hart has conceded 57 goals this season, and Torino president Urbano Cairo did not hold back on his words."Hart made a few mistakes, especially when coming out for the ball," said Cairo. "He is an important goalkeeper. We probably didn't expect so many mistakes from an England international… but he did some good things, too."  

Hart started brightly in Turin. He was greeted as a superstar upon his arrival and despite his challenging introduction to life in Serie A, quickly picked up Italian so he could communicate with his teammates. The Torino boss even talked up Joe Hart's "great charisma" and how it was bringing confidence to the team.

However, it has gone downhill from there, with Hart only showing flashes of brilliance that made him Manchester City's number one keeper. 

Torino currently sit ninth in the league and look set to miss out on European football. Hart, who is unlikely to make his loan move to Torino permanent, will also not be poised to move back to the Etihad and will look for other Premier League clubs next season.