Cech sad at dropped points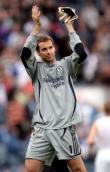 After Man Utd dropped points in the Premiership at the weekend, Chelsea keeper

Petr Cech

admitted he was gutted that the Blues too dropped points after conceding an equalising goal through Portsmouth striker

Jermain Defoe

.
"It is a pity that we did not manage to maintain the lead," he told his own website.

"Otherwise, I think there were plenty of chances for both sides and the fans must have liked such an up-and-down game.

"There is always a great atmosphere at Fratton Park.

"Every series must end at some point but it is a pity that it ended against Pompey as we could have moved closer behind Manchester United thanks to their draw at Tottenham."