Manchester United front runners for Michael Keane as Burnley look for an astronomical fee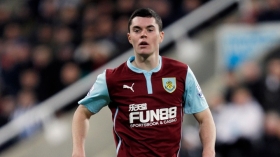 Manchester United are leading the race to sign former player

Michael Keane

but Burnley are looking to play hard ball over him.
The Guardian reported that Michael Keane himself has set his sights on a return to Old Trafford just two-and-a-half years after he left for Burnley for a mere £2 million and Manchester United are favorites to land him. Burnley are expecting a formal offer from the Red Devils after their Europa League final clash with Ajax.

Burnley, though, will be playing hard ball over the defender and will try to hold out for at least £30 million despite him only having a year left on his contract. 

The reason for them doing so is due to a stipulation in Keane's contract when he signed from United that states Burnley will have to pay 25 percent of any transfer fee to Manchester United. 

This means that United will effectively have a 25 percent discount on the player if they were to buy him back. An official sale of £20 million will actually only be a £15 million sale.

Burnley will hope that the competition for Keane's signature from Liverpool and Everton forces United to splash the cash. Additionally, the sale of John Stones for £47.5 million from Everton to Manchester City has placed a high demand on English centre backs, although Everton were aided by the fact that John Stones had three years left on his contract compared to Keane's single year.