No deal makes Alvaro angry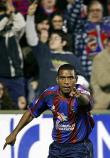 Levante defender Alvaro has blamed agent Mariam Khadour for the collapse of his dream move to the Premiership to Newcastle. The Brazilian had agreed terms but transfer wranglings with an agent prevented the proposed move.
"I cannot find a logical explanation for it all," he told a press conference. "I have changed my mind completely and the club has been very strong and responded with everything I wanted.

"Levante has proof of everything that happened and that nobody else is to blame apart from this woman.

"It was all very difficult, but I want to thank the club for the way things have gone.

"It is bad to say that they wanted me to go, but I have already asked for forgiveness and I will continue giving everything to Levante," he explained.

"I think it is quite normal to be excited, though, when a club comes in and offers you such incredible amounts."