Di Santo ready for Chelsea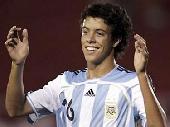 Franco Di Santo

has revealed his joy at finally signing for Chelsea and arriving in England andfeels that he is capable of appearing for the Chelsea first team sooner rather than later.
"People here are so kind," he added. "I used to watch them on TV and told myself they would be arrogant but it is totally different when you are inside.

"Despite all they have won, they treat you like one of them and you have to treat them the same. If not, they get angry.

"I never imagined I would be here watching Michael Ballack, Pizarro or Frank Lampard playing pool in front of me. Being with them and spending time with them is unbelievable.

"They help you in whatever you need. Whatever they can give to you, they do. I really don't want to wake up from this dream.

"I think you always have to be positive. I have confidence. After some time, two months or a year, I will fight for the position with anybody.

"If I compare myself to them, the difference is huge, but it is because they have been playing for 10 years. I know I cannot do the same as they do now, but I have some things they don't have - I am young!"