Kieran Tierney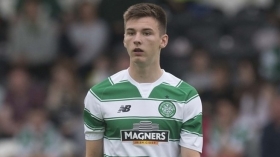 In the space of two seasons,

Kieran Tierney

has condemned the well respected international and former Arsenal target Emelio Izaquirre to the backup role.
He played a huge part in Celtic becoming unbeaten domestically and winning the treble in the process, and is already one of the first names on the team sheet at international level. He is being linked with moves to some of England's biggest clubs, and its easy to see why.

The Scottish Premiership is widely regarded as a one team league, however this means Celtic come up against a lot of teams who are strong defensively, and make themselves hard to break down. Tierney is crucial to helping Celtic maintain width and has the pace to beat opponents and retreat to nullify counter attacks. Tierney can also underlap and cause a threat running into the box, shown by a run against Motherwell this season where he starts on the touchline , beats 4 players and is unlucky to see his effort hit the bar. some of the recent links to Arsenal and Liverpool make sense, when you see that Tierney thrives in a dominant , attacking team , and has the confidence to get on the ball and run at the defence or put a cross in.

It may be easy to make assumptions that playing for such a dominant team that he may not be regularly tested defensively , so could he play at the highest level. Unfortunately the Scotland National Team is not as successful or dominant as Celtic, so at international level Tierney gets plenty of work in this department. Similarly in the Champions League for Celtic he has to display his defensive prowess. Tierney has demonstrated his has good recovery pace to get back into position, and his tacking is genuinely good in a one on one situation, but at 5"10 , any decent target man would be looking to isolate him and exploit this in the air.

Curiously , despite having such a poor team, Scotland have two left backs who could be "top level " players in the future in Andy Robertson and Kieran Tierney. As a result , Tierney was pushed to right back for a recent qualifier with Slovenia. although being out of position he initially looked a bit reluctant going forward, he grew into this and is now looking likely to start there against England in June. such versatility will further attract big name clubs to him.

Tierney is so popular and dedicated to Celtic , that its hard to see him moving this summer, but whoever eventually decides to pay the 10 million+ that's required to take him away will get a pacey, enthusiastic and tenacious full back who will get better with experience. He does look better suited to a team who plays progressively and likes to keep the ball - Think Arsenal/Livepool/Everton for instance, to get the best out of his attacking qualities.