Manchester United look to beat Arsenal to French star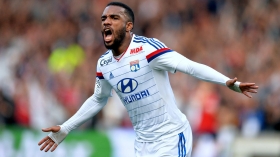 Alexandre Lacazette

has been a transfer target for Arsenal for some time now, but Manchester United have now turned their attentions to the Lyon star and could beat The Gunners to the signing.


Antoine Griezmann was Manchester United's top target this summer, with Lacazette said to be the player that Atletico Madrid would look to replace him with. After Atletico were handed a transfer ban, not only is the Lacazette to Atletico deal ruled out, but Griezmann's move to the Premier League now looks highly unlikely.

Lyon have accepted that Alexandre Lacazette will leave the Ligue 1 club this summer, but unfortunately for Arsenal, the Frenchman is set on playing Champions League football. Thanks to their Europa League success, Manchester United can now offer him that.

It is expected that £50 million is the amount that it will take to sign Lacazette, something that the Mirror reports United are happy to pay. That amount is much lower than the figure that The Red Devils were set to pay for Griezmann, allowing for additional funds to be put towards another new signing.

The report also suggests that Liverpool are interested in signing Lacazette too, but should Manchester United continue their pursuit, their financial power would more than likely see them come out on top, for the player who scored 37 goals this season.