Kane: I'm going nowhere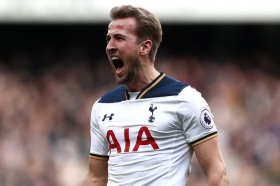 Harry Kane

has assured Tottenham Hotspur fans that he is staying at the club and has no intentions of leaving anytime soon. Kane has established himself as one of the Premier League's best strikers over the last couple of seasons which has seen him linked with the likes of Manchester United.
Speaking to ESPN, the England striker explained that football is not about money for him and that he believes Tottenham are a club that are on the up.

After falling short in the Premier League race last season, some feel that Tottenham are not quite of the quality to challenge for major honours at this time. Kane disagrees with that and states "I'm very much at Tottenham because I love this club and I see it going in a great direction and I feel like we're one of the best teams in England and in Europe as well, so I'm excited for the future ahead."

The 23-year-old also added that he will remain a Spurs player for the "foreseeable future", which will be welcomed by fans and club chiefs alike. The strict wage structure being implemented by Tottenham has seen them miss out on potential signings to clubs with more financial power and has also put the future of players such as Eric Dier in jeopardy, with Manchester United prepared to increase his salary drastically. 

With a scoring record that is amongst the best in Europe's top leagues and with his best years still to come, the question is, if Kane decided he would like to leave the north London club, how much would he be worth in the current transfer market?