Capello: we need discipline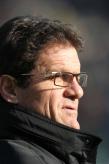 England boss

Fabio Capello

has warned the country's players that they must be more disciplined and work harder if the team is to succeed. Capello is trying to impose his own philosophy on the group of players and showed he would be controversial by dropping several key players for the match with Switzerland.
"English players are tactically fine, they know how to move tactically. But every coach has his own ideas and characteristics," Capello said.

"Disciplined on the pitch, with good movement as a team, and at the same time capable of stressing the qualities and abilities of each individual player.

"The England players will have to do what I ask of them. Against Switzerland what I asked over three days in terms of team movement and schemes was performed at 80 percent.

"I had seen most of them in action before, but watching them on TV doesn't allow you to appraise them off the ball. You can only verify their tactical level from the pitch."