Rafa: I will rotate Torres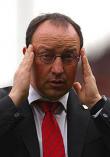 Rafa Benitez

has warned his star striker

Fernando Torres

that he must get used to the fact he is unlikely to play every game this season. Torres grabbed a hattrick against Middlesbrough at the weekend.
Benitez said: "Will he play every week? Well, with one game a week it would be easier for me, but I have explained 100 times that I need everybody fit.

"If you are playing three or four games every ten days, and we have West Ham, Newcastle and Inter Milan all coming soon, you need to see how players are and make sure that they are fit.

"It is not easy for foreign players in their first season, but Fernando is a player with power and pace and I felt that, in England, those qualities are suited to the league.

"We had two or three targets when we were looking for a striker last summer, some good options, but we decided on Torres because he is young, hungry and his ambition was to play in the Premier League. We also knew that he could be good for us.

"It is really difficult for players to score 20 goals in any season, never mind their first season in the Premiership, but Fernando has done that. His work-rate is good as well, so everything is positive for us.

"There has never been a target for him, other than for him to score goals. I want my strikers to score goals, but they also have to make space for the other strikers and play well."