Sky Sports journalist hints at possible Wenger replacement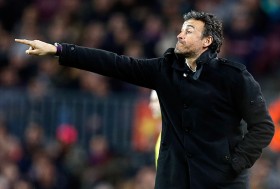 The Frenchman has announced that he will be ending his 22-year-old association with the Gunners during the summer and the club have already begun their search for a successor.

A number of names including Thomas Tuchel and Carlo Ancelotti have been associated with the north London side but as per Balague, Enrique may prefer the Gunners head coach role.

"I tell you what Arsenal needs, it's Luis Enrique. Would he fancy it? He would absolutely love it. Why? Because after a year sabbatical he is ready to come back, he has had all kinds of offers. PSG were certainly one of them," he said.

"He has had contacts from Italy, too, but I do believe that Arsenal have not made a step yet to negotiate. Luis Enrique is available, and he has left himself available because he wants to get the right job."

As stated by Balague, the Gunners are yet to make any sort of approach for the former Barcelona boss, who is currently approaching the end of his 12-month sabbatical.

The 47-year-old has also been linked with a switch to cross-town rivals Chelsea and he is expected to make a decision on his next move during the off-season.

Wenger, 68, will be managing the Gunners for the second last league game at the Emirates Stadium when they take on West Ham United on Sunday afternoon.