Stubbs: right to leave Everton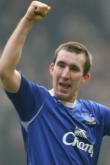 Derby defender

Alan Stubbs

feels that he made the right decision in leaving Everton to join the Rams who sit rooted to the bottom of the Premiership on only nine points.
Stubbs said: "I have made the right decision.

"I'm not enjoying the results, but I am enjoying playing, and as long as I am playing and enjoying my football, then I will go as long as I can.

"That enjoyment increases when you win, and I want to experience that winning feeling in a Derby shirt, and the sooner the better.

"I don't like losing. If you ask anyone who has been around me, I am probably one of the biggest losers.

"Losing is annoying me, the manager, the players and the staff. We just need to roll our sleeves up and start giving a better account of ourselves than we are doing at the moment.

"When you cross that line there is nowhere to hide, and as a group of players we need to stand up and be counted."