Zaha turns down bumper Palace deal amid English and German interests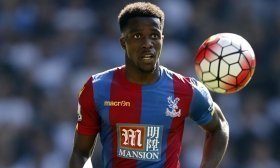 Wilfried Zaha

has turned down a bumper deal from Crystal Palace in order to secure a move out of the club, according to the Sun.
The former Manchester United winger has been offered a £120k-a-week deal after a great performance for the club last season.

He played 29 league games for Palace last season, scoring 9 goals to help his side finish 11th. He is currently being chased by Tottenham, Everton and Dortmund. At the moment, it is unclear which club is favourite to land the talented winger.

Zaha has been praised as one of the best young players to come out of England. He combines pace and skill on the flanks to trouble defenders, and with the right guidance and playing time, the attacker will become a more dangerous attacking force in the world of football.

His time at Manchester United did him no favours as he rarely played to show his abilities for all to see. Palace gave him the opportunity to revive his career, but it looks like Zaha is preparing to take his career forward by moving to a higher ranked team.